Mysteries of the Bible Blog
Featuring events and current issues affecting both Christians & non-Christians all over the World in light of God's Holy and Prophetic Word.
Overriding Blog Posting -NEW FOR 2020!
Does God Exist? (And does it Matter?)
We come to the most important topic of discussion of all time and arguably the Greatest Mystery of all Time. This is the one that every single human being has pondered and will ponder about throughout the history of recorded time. The real question to address is, why is this so important and doesn't it truly matter or for that matter, make a difference in our life if we know what we know to be true or at least have strong enough convictions to live by?
If there is one thing that parties on both sides of the debate on whether God exists or not are guilty of, is making the discussion so philosophical and so hypothetical that the common person who is not a philosophy major or an apologist (like Paul in the New Testament) who can argue on every issue, we need to break things down to the most basic of tenants so that we can all at least follow along on this subject.
One way to look at this whole debate is based on probabilities. Is it much more probable that by chance (since there would be no deliberate creator behind the design of life) that matter could ever come together in such a fashion as to create life in all it's complex and deliberate, sophisticated fashion? From plants to animals to human beings, how does chance explain a non deliberate creation without a creator? Why even after billions of years would matter even accidentally combine and interact in such a way that anything would be created, nevermind the Earth, the Galaxies and the Universe? What is more probable to believe this or that a very well crafted designer was behind this?  One thing is apparent it doesn't take science to have faith, but it takes faith to believe in science. In that regard science is a religion as it is based on faith. Scientists argue there position is based on facts. The so called "facts" have yet to disprove the story of Creation in the Bible and carbon dating to this time has not been found to be as accurate as was originally thought. Evolution has it's issues without any intermediary species fossils  that are in the process of evolving ever found. Believing the Earth is as old as we are taught by Science is not a fact, it is a faith statement that cannot be proven.
So why even have these discussions in the first place? Cannot we all just live together in peace and harmony with our different belief systems? While that sounds like a great idea, the reality is, if we take a close hard look at who are the true respecters of life on this Planet we will find a common thread. Those that murder, those that hate, those that hurt themselves and others for the most part are lacking one thing, faith that there is a God. By thinking they are here for no reason , by chance, by accident, their life's become meaningless and worthless (in their eyes). When life is devalued to this degree it is much easier for someone to pick up a gun and kill someone else of for that matter commit suicide and kill themselves.  Where does this disrespect for others, such as racism and hatred come from?  It does not come from God nor does it come from the Children of God, it comes from the enemy, Satan. So does it matter to have faith? If we look at how many people feel lonely and depressed in this World, it would come to no surprise of anyone that most of them either lost their faith or never had any faith that they were created by God and that God loves them.
We are told that God created a vacuum inside all of us so that we would feel empty without God no matter what we replaced it with.  It doesn't matter if it is money, sex, fame, drugs – you name it none of it leaves one fulfilled. That is why those who are some of the richest and most famous people on the Earth (that so many others ironically seem to envy and wish they could trade places with) are also some of the most miserable and depressed human beings you could ever come across. So why is this the case? God wants us to know him but he will not force himself upon any of us. He wants our unconditional love because he first loved us, because he decided to create us in his image and he wanted to give us a chance once again to be redeemed and have eternal life (why he sent Jesus to us to die on the cross as a sacrifice of redemption for our sins). Failure to understand that God is a spirit and understand how God works is often the reason so many skeptics say that God is a made up fairy tale.  They argue that God is a myth, made up in our minds since you can't see God, you can't even hear him speak. They fail to understand how God works through the Holy Spirit, the non regenerated mind of man cannot comprehend the things of God. The Bible speaks of this.
Did matter and science ever explain  how we can even know and experience love or the conscience to know good and evil, because it simply can't. Love does not come from matter or a big bang theory. God is love and love comes from God the Father and nowhere else. Science can't explain the things that are supernaturally of God, like creation and God's creating us in the unique fashion that he has, with a mind, body and soul. Science is simply man's attempt to explain the unknown. Atheists will argue that religion was created for the weak minded who cannot cope with life without believing there is a greater deity in control. The Bible calls such people fools and they are really the true fools for they are pompous and arrogant types that stoop low to ridicule those of faith when their own concepts are the ones that are actually ridiculous and far fetched. 
So the answer simply is , yes it matters that we believe in God. We know it becomes a matter of life and death, God says he has made it evident to all that he has created all things. So we are without excuse. Come  Judgment day , atheist's will stand before the judgment seat of Christ just like everyone else and they will have to give account for why they rejected God. They will have no alibi on that day. They will be speechless. Some choose to make light of this saying when you die you die, you go in the ground and you rot and that is it. What if the skeptics and atheists are indeed wrong?  They have all eternity to regret making the wrong choice. Is that making a decision solely on fear, certainly that is part of it, but isn't that making a decision based on logic as well? So many want to say that Christians and those of faith are slaves to fear, but they won't be the ones who are fearful on the day their bodies are resurrected by God Almighty. Here are some verses to further reflect on the truth of God's Word.
Romans 1:20 For since the creation of the world God's invisible qualities–his eternal power and divine nature–have been clearly seen, being understood from what has been made, so that people are without excuse.
John 4:24 
God is spirit, and those who worship him must worship in spirit and truth."
Psalm 14: 1 Only fools say in their hearts, "There is no God." They are corrupt, and their actions are evil; not one of them does good!
Psalm 8: 3-4 When I consider your heavens, the work of your fingers, the moon and the stars, which you have ordained, what is man that you are mindful of him.
Next…
Racism: The Satanic Plot from the beginning of time
When we say that we acknowledge that racism at it's core is evil (which it is) , do we really understand what it is and where it came from? Until we grasp the reality of what racism is, we certainly can't provide the antidote to cure one who holds to racist views. To be frank we are all racists to some degree, some are far more obvious about being a racist then others. Why do we say we are all racists to some degree? We are all sinners and as such we are all vulnerable to the influence of racism.  Racism can be so subtle that we might not even know it's in our deepest thoughts, but it's there. Tracing back to the first racist that the Bible speaks about we find it to be none other then Satan himself, the biggest of all racists. Satan was jealous that God created man in his image and hated that God created Adam and it all stemmed from the fact that he thought he was superior to Adam as God's exalted cherub. Satan then devised a plan for man's fall with the carefully crafted apple/ garden -fall from Grace plot that has forever changed man's destiny. Now man would be born to sin and until he would have the opportunity to be redeemed from his degenerate state by the Lord God Almighty, Yeshua Ha'Mashiach, he would die in his sin and face eternal damnation.
So is it any wonder, we have the same news story played over and over again like a broken record of another tragedy involving a person of colour being terminated or seemingly executed by a police officer or an Asian person being targeted as a perpetrator of the COVID 19 pandemic, or when there are terrorist attacks, Muslims and even Sikhs have their places of worship destroyed and set on fire.
Does law enforcement and the judicial system and civic laws need to be reformed so that everyone of every race and skin color is treated equally and fairly? The answer is yes. However, that is only scratching the surface. It's not getting to the root of the problem. Satan has always used man against himself, look at Cain and Able. Satan has been whispering hateful and poison filled thoughts into the ears of man from the beginning of time. Only the Lord Jesus Christ can take man's sinful condition  and change him from within. Until we see a redemptive transformation of the sinner into a child of God, we can expect to see racism  continue to show it's ugly face, because racism comes from within. Satan just takes advantage of it. Satan would like nothing better then to have the races clash and destroy one another. This is why if you look at the Satanic secret societies, the Illuminati, those behind the New World Order, their plans for race clashes play a big role in their ultimate goals of Global take over. They want to weaken societies fabric so when they make their move to dominate and take over, resistance will be that much more difficult on our part.
Dealing with racism as an ideology also serves as a major distraction, so that the elitists can be doing other things behind our backs without us paying much attention. We must keep our eyes on the Lord at all times, stay strong in the spirit and not fall for Satan's attempts to lure us into sin and racist thinking about our fellow man/ woman. God created us all as equals, none of us on this planet are better then anyone else regardless of how much money, fame or success one may have. We are all equal in God's eyes. Satan knows this as well, and he just wants us to be fooled into the lie of thinking that we are in fact better then someone else. We aren't. God is no respecter of persons, he doesn't care what color of skin you have , your nationality or how much money you have in the bank. God cares if you love him, because he first loved you and the Father gave his only begotten son for you as a sacrifice for our sins, so that you may know him and have eternal life and happiness and joy forever in being with God.  To God, ALL lives matter. We end with these words of scripture on the subject.
1 John 2:11
11 But anyone who hates a brother or sister is in the darkness and walks around in the darkness. They do not know where they are going, because the darkness has blinded them.
Galatians 3:28
28 There is neither Jew nor Gentile, neither slave nor free, nor is there male and female, for you are all one in Christ Jesus.
Mark 12:31
31 "Love your neighbor as yourself.' There is no commandment greater than these."
NEXT UP..
COVID-19 & The Global Economic Collapse : Gateway to the New World Order? 
One dilemma that has faced the Global elitists who are attempting to drive the Global World Order forward, is the destruction of the current World's Economic structure. With the collapse would come the need for a Global and cashless society and a Global currency as well to accommodate this "Brave New World" as Aldous Huxley , the well known English writer and philosopher called it. These elitists have tried many times throughout the course of modern history to pull rank and artificially create such a scenario, but their impatience in waiting for an actual complete collapse of the Global economy  has worn thin.  These are the same bunch that complain that there are far too many people living on the planet and would like to see more then 2/3rd's of the Planet eliminated and preferably sterilized to prevent having offspring because they are "useless eaters" according to them. How Ironic it is that they complain about people in Third World countries just eating to survive when these very same elitists want to gorge themselves in an orgy of unfettered gluttony when it comes to greed and power. They already have so much, but they want it all.
It was George W. Bush when President of the United States, who declared a new era, a New World Order was upon us. Now almost decades later, that New World Order has been spurting along. It is debatable in discussing how far along they actually are. They are still aways off from their ultimate goal of Global dominance. Regardless of what you believe the true origins of the Coronavirus to be, whether it was created in a laboratory or in a wet market in Wuhan, China, one cannot deny the impact it has had on the Global Economy. Some countries who have just recovered from finacial disaster are even worse off then they were prior to the pandemic and some are on the periphery of falling into copmplete debt and bankruptcy. The rift between the haves and the have nots of the World has never been more greater. Countries unable to operate because of the cost of the pandemic in businesses no longer to boost their economies will seek bail outs and foreign aid from forgein banking institutions, but at what price? Will this include giving up their sovereignty? Isn't this the true description how Imperialism came about when the British empire soared by turning all the countries they invaded into colonies? The Romans, the Spainards, Russia, the US, the French, the Germans and many other countries have taken over forieign lands by might or what they might call "acts of diplomacy" throughout the course of History. This is nothing new to us.
The New World Order will likewise rise up and conqueror and vanquish all their enemies and take over the entire World. It will begin quietly with countries needing assistance and aid. Who will be there to help all these countries in strive? Right now all the leaders of countries only have jurisdiction over their own Country. The Pandemic called Covid-19 along with the cold war developing rapidly between China and the US ( at the time of this writing at the mid point of the year 2020) is leading us all down a path where a Global Representative will emerge from the rubble of Global economic disaster. This individual  will be seen by many as the savior of the World, a hero who perhaps has the miracle antidote to end once and for all the Coronavirus, to end all manner of strife and war and bring peace to a World desperate for it.
The time is ripe for such an individual to appear on the World stage. He will come from nowhere and chances are he will be someone no one has even heard of before. His identity will soon be revealed by his actions. He will enter as a lamb but soon become a roaring lion or better yet, a dragon. He will be praised with "god like" attributes and will be worshiped by many as god. He will reach the point where he will demand Worship just like King Nebuchadnezzar had done before him.
This individual is of course the Antichrist and the timing of his arrival is looking more and more like it will come after the Pandemic brings martial law to the World and civil rights are stripped and constitutional proclamations are done away with.
False News has helped perpetuate the myth that physical currency is no longer an acceptable form of doing business as the fear that somehow the coronavirus can be transmitted via the dollar bill (because it has changed hands more frequently) vs using a personal credit card, hence many establishments are now only accepting credit cards. One move closer to the cashless society. Perhaps we will also see a forced vaccine which will become mandatory if anyone wants to walk around freely and this could be a dry run test for the inevitable Mark of the Beast that will be necessary for anyone to buy or sell. Already tracking mechanisms have been put into place by China  and some of the rest of the World is looking into it as well all under the guise of being able to know the whereabouts of potentially infected individuals. Tracking sounds familiar doesn't it? The oppression upon us is relentless, with the Global Economic collapse being only a matter of time and the News Media doing their best to paralyze the masses with their fear based news  bombarding the airwaves with nothing but Coronavirus news 24-7. The mental psyche IS being worn down, with depression and anxiety building in many people who have been put in perpetual isolation void of any or enough human contact and self distancing burn out. It almost sounds like a type of brainwashing or conditioning when you think about it.
There is only one individual who can stop this madness and stand in the way of this diabolical tyranny and that is the Lord Jesus Christ, the Prince of Peace, the only true and wise King of Kings, and the only Lord of Lords. The people of the World need him now more then ever to bring peace to their hearts and minds in a time of great uncertainty, stress and insanity.
John 14:2727Peace I leave with you; my peace I give you. I do not give to you as the world gives. Do not let your hearts be troubled and do not be afraid.
John 16:3333"I have told you these things, so that in me you may have peace. In this world you will have trouble. But take heart! I have overcome the world."
Next up…
Mentally ILL? … or just plain EVIL! The End Days work of Satan's Puppets.
On the heels of the worst mass murder shooting in modern Canadian History in Nova Scotia (at the time of this writing in April 2020), once again lots of talk has surfaced on the World Wide Web over the topic of whether evil truly exists in the World? For some the answer is a resounding yes but for others who don't believe in such things as good and evil, the contention remains.
Gabriel Wortman, a 51 year old Denturist by trade, starting late on a Saturday evening into the morning hours of the following day went on a killing spree that so far has left 23 people dead with more feared to be fatally done away in the charred remains of some of the houses that were burned down during the massacre. Christians are well aware that in these end times scripture tells us that evil men will wax worse and worse in their evil deeds and this tragic event reaffirms this. Beyond what mental health practioners have stated about those who perform such despicable acts of murder and suffer from severe mental illness, is their proof or evidence that they also may have been supernaturally influenced or demonically possessed to commit such heinous acts?
In other words, how much blame can we place on the shoulders of the devil as the major driving force for these acts of terror?
Again we turn to scripture for the answers and it is understood that the devil is also known as the thief who comes to rob us of life and who seeks us out to literally kill and destroy us, if given the opportunity. We will look at a number of instances in just a little bit, between some serial killers and their dabbling's in the occult. It is also important to recognize that every serial killers past is somewhat different and some more then others come from some very tragic upbringings that no doubt had a major impact in the vile acts they would someday commit. Accounts of broken families, torture, abuse, and psychologically traumatic experiences no doubt played a major role in warping the minds of these individuals.
When reviewing a significant number of serial killers life's , one cannot help but notice a common thread weaved throughout their past and that is the introduction of the demonic and dark entities that in a good number of instances very well led to demonic possession. While some serial killers have bene involved in actual satanic rituals, others led a surprisingly quiet life and nothing abnormal or bizarre was taken notice of prior to the atrocities committed. They all had one thing in common however, regardless of their past experiences, they were all "walking time bombs" waiting to explode.
Did Gabriel Wortman's mind snap all of a sudden or did he plan this killing spree for sometime? Perhaps we will never know. Not much was known about him other then he had an interest in air guns at an early stage of his life, and he had some type of interest in the RCMP (Canada's Police), as he had not only 2 marked police cars but a police uniform that apparently may have been an actual police uniform. Outside of some apparent extreme jealousy he had over his girlfriend and some questionable financial transactions and real estate endeavors that he took advantage of a few individuals on, no known motive at the time of this writing has materialized. It's cases like Wortman's that make one scratch their head and ask what makes an otherwise docile person like Gabriel Wortman appeared to be, become so violent  and full of blinding rage?
Because of the length of this blog, we broke it in to 2 sections. In this second section we look at those serial killers that had spoken of the demonic intrusions in their lives. We can only cover a few of them as unfortunately there are so many instances where serial killers have stated "the devil made me do it." Some may have been merely weak attempts at an alibi or an insanity plea but others have more to them. Take for instance, Jeffrey Dahmer who not only killed 17 young men in Milwaukee, WI during 1978 -1991, he ate a good many of them as well.  Jeffrey had an interest in the occult at an early age and as a teenager would sacrifice cats and other animals. Jeffrey mentioned he had been in contact with an evil spirit that refused to leave him alone and would badger him non stop. You will see this as a common theme in most of these stories. Jeffrey's interest in the occult and in particular demonism grew stronger and stronger, becoming an obsession with Satan. Dahmer's last victim, fortunately survived the nightmare ordeal but took note of Dahmer chanting, rocking back and forth and how his very appearance became demonic looking. Dahmer had the Exorcist 3 playing on his TV at the time, he was obsessed with the movie apparently. Dahmer even had plans to build an altar with some of the skulls of his victims he kept. Was Jeffrey Dahmer possessed? Evidence seems to point in that direction.
Then there was Richard Ramirez, better known as the Night Stalker who said he was inspired by Satan and he even cut pentagrams into the skin of his victims abdomen as well as cutting a pentagram into the palm of his own hand.  He killed 14 people in the LosAngeles Area during 1984 and 1985. He too claimed that he was introduced to Satanism at an early life and he used his victims as an offering to Satan as well.
Another serial killer, Ted Bundy who killed 36 women in a series of interviews, mentioned besides being addicted to porn ( a gateway to the demonic) he was being tormented by what he referred to as the entity. Just like in Jeffrey Dahmer's case this entity would not leave him alone and commanded him to kill. Connor Betts was a serial killer in Dayton, Ohio and he was a self proclaimed Satanist who dedicated the killing of his victims as satanic offerings to Satan. Jason Dalton, the well known Uber driver who was known as a peaceful family man, snapped one day and killed 6 people. He repeatedly said that the devil made him do it and harassed him non stop and he succumbed to the voices in his head.
Perhaps no case is more compelling then that of Sam Berkowitz aka Son of Sam, who in the 1970's in New York killed six people and terrorized the entire city. Berkowitz claimed that he had come in contact with a Satanic cult and they in fact brainwashed him in order to control him and get him to do their will. Berkowitz claimed he heard voices all the time, harassing him and telling him to kill. Berkowitz was believed to be initially insane but over many years of post interviews, he has become far less lucid and sounding fairly competent in his faculties and thinking, It is interesting to note that both Dahmer and Berkowitz said they gave their life to the Lord Jesus Christ and were delivered of their demonic possession for once and for all.
On a much larger scale, there was Adolf Hitler, responsible for the deaths of millions of Jews as well as others he deemed  "non desirables "including homosexuals, cripples and others". Hitler was obsessed with the Occult, he even took the Swastika an image dating back to India and eastern religion and mystism and made that the Nazi symbol. He was obsessed with the idea of fulfilling the role as the Antichrist of the Bible and was looking for the Ark of the Covenant and other ancient treasures as he believed they had supernatural powers that he could manifest once in his possession.  Hitler was a cold calculated madman but was he also demonically possessed?
Senseless acts of violence and murder can only be described as true acts of evil for they leave the surviving loved ones broken and traumatically and psychologically damaged and perhaps scarred for life. Some may never heal from such an ordeal, either emotionally or psychologically. There are those that say these serial killer's simply were wrestling with "inner demons" but not actual demons per say. Call it what you will, the devil is for real. Satan does seek to devour whom he may with the time he has left before Yeshua comes back. Until that time that the Lord does return to set things right finally, we are to be vigilant, be sober and alert. We are to wear the spiritual amour of the Lord to protect us against the darts of the enemy, Satan. Darts cannot penetrate armor do not forget. Satan wants to make everyone afraid and believe he is mightier then he actually is. If you fight the good fight of faith in the Lord's strength, the enemy will be vanquished as he will see no way to attack you and will move on from you in order to attack others more susceptible to him.
The Lord himself said for us not to fear what man can do to us (all they can do is destroy the flesh), whereas the Lord , our Creator and God Almighty has the rightful say in what happens to our eternal souls and where we will end up for all eternity.
1 Peter 5:8
Be sober, be vigilant, because your adversary the devil, as a roaring lion, walketh about, seeking whom he may devour.
Next...
Pestilences  of the last days…The Coronavirus
Let's get straight to it shall we? The question on a lot of Christian's minds these days is whether the Coronavirus is in fact a Biblical sign foretold in the Book of Revelation? There are some who study Biblical Eschatology (that is the Study of Bible Prophecy and more specifically the End times) that believe that the Fourth Seal of the Apocalypse has been broken. Of course that would mean the first 3 seals would have had to obviously been broken as well, which is another subject altogether.  Now that fourth seal describes the appearance of a rider on a pale horse and the rider that sat on that pale horse's name was death and hell proceeded it. The Book of Revelation then states that death or in this case, pestilence will have it's way with 1/4th of the World's Population. That is billions of people we are talking about here. Scary stuff?
At the rate the Coronavirus is infecting and killing so many, if a cure is not come up with soon , this virus will become a pandemic before we know it, which means it will be Global and every country in the World just about will be highly affected by it. When the virus reaches the pandemic stage it will be impossible to quarantine people as the spread of the virus will be so rapid, it will be impossible to slow it down.
But let us go back to the burning question that must be addressed. Is this Coronavirus really the 4th seal of the Book of Revelation or a foreshadowing of what we can expect when it does happen? It seems almost unbelievable how fast this deadly virus has spread in such a short time. It first propped up towards the end of 1999 in Wuhan province with a scattering of cases at first thought to be isolated and not a contagion Then as 2020 approached it just blew up and took off like a missle launched at the World. People traveling from Wuhan Province in China whether it be by plane or by cruise ship, have become lethal carriers themselves of the dreaded disease. Before they fall victim of the disease they managed to travel to a good many places around the World for the virus to be transmitted even further.
It probably remains to be seen whether this is a very serious pandemic (far more deadly then SARS ever was) or in fact this is an actual Biblical Plague that will in fact take out 1/4th of the World's Population.  In either case, the Coronavirus does not look like it is going away anytime soon. It now matters little as to where the virus originated, whether it was because certain types of animals who were diseased had been consumed in Wuhan Province or if this is part of what Conspiracy Theorists call the Great Culling of the herd (The World's population of so called useless eaters). One cannot help but recall the Ominous goal on the Georgia Guidestones stating that the Worlds' population needs to be kept under 500 million to be properly sustained. Well that means 9/10th of the World's Population has to disappear off the face of the Planet. Is the Coronavirus a laboratory created attempt by the New World Order to step things up  in exterminating most of the World's Population? (since the World's Population is nowhere near where they apparently want it to get reduced to).
Now a lot of people have died from this horrid virus and our heart filled prayers for them and their loved ones should not cease and yet an interesting aside was the fact that a cult church in South Korea (where a false Messiah states that they are the embodiment of the return of Jesus Christ) part of the Daegu branch of the secretive Shincheonji Church of Jesus had many of it's parishioners infected with the Coronavirus. Is this an odd coincidence or the judgement hand of God against idolatry? We again do not want to appear insensitive to the fact that so many lives are being lost with this terrible virus but one cannot help but take notice of this as well.
One last comment concerning the wiping out of a good size portion of the World. Outside of a Global War such as a World War 3 scenario what else would have the magnitude to do so much damage to the World's population  in a very short space of time other then something just like the Coronavirus?  As of this writing in early 2020, the Coronavirus has spread to at least 26 countries around the World and close to 3000 people have died from the virus with another 100,000 cases Worldwide being reported that will surely raise the morbidity rate in a hurry. We know these numbers will only continue to rapidly expand and there is a great fear in almost the entire planet about catching this virus and spreading it to others. The Lord Jesus Christ  had something to say and words of comfort to share as he didn't want any of his disciples or followers to have fear or be dismayed when these sorts of things began to happen on the Earth. He even told his disciples that was the reason he was sharing this with them, so they could be prepared. He wants us to all be prepared, mentally, physically and most of all spiritually. in Luke 21:11 Yeshua states that there will be great earthquakes, and in various places famines and pestilences. And there will be terrors and great signs from heaven.
Take comfort and refuse to let fear dominant your life beloved. We must always remember to take the Lord's words of comfort and reassurance to heart. The Lord's desire is that no matter the degree of tribulation you experience in this life, if you are a child of God, a born again believer in Christ, washed and redeemed by his precious blood he shed for us all, no one and no thing can do you harm beyond the destruction of the flesh, which is just temporal. The Spirit lives on eternally. Yeshua knows you are suffering and he wants to take that burden from you. In his own words beloved take comfort in this.
John 16:33 "I have told you these things, so that in me you may have peace. In this world you will have trouble. But take heart! I have overcome the world."
Next…
Is the Antichrist ready to soon make his appearance?
WW III – Entrance Ramp for the Antichrist
Without a hint of sensationalism, looking at the World as it currently stands (as of this writing in early 2020) one can't help but ask, is have we inched ever so closer to the brink of World War 3 in recent days? World Wars have never come about from one single act or deed but by the actions of a killer drone which wiped out a convoy that included Iranian Commander Qassem Soleimani the leader of Iraq's elite Quds Force and Iraqi militia commander Abu Mahdi al Muhandis, the threat of escalation has now been triggered. 
Some officials from the Middle East are now stating that retaliation from Iran would be swift and certain and it was the case, as mere days later Iran launched missiles at US Forces in Iraq to which President Trump tweeted, that if Iran wanted to engage in War with the US , it would surely spell the end of Iran.
One must ask can events like this lead us down the path towards WW3 and would that in turn open the door for the sinister appearance of none other then the One World ruler to be, the Antichrist?
When we look at scripture and the details of the Battle of Megiddo, or Armageddon or for that matter the other end times battle, the battle of Gog and Magog, there are certain unique characteristics to both of these end time Wars to occur before these actual events take place. We have already covered both the final battle of Armageddon and the Battle of Gog and Magog on this website, so please refer to the applicable MOB's for more details as they have been carefully reviewed.
Rather we mention the fear the World will enter into that there will be a WW3 that may set the table for the Antichrist by declaring peace in where else but none other then the Middle East and Israel and it's many enemies which would be a strong indicator that tension is going to need to heighten for the threat of a larger scale War to take place and for that matter the need for a peace covenant to be drafted in the first place. We are referring to the 7 year peace treaty that Daniel covers in the Old Testament.
We know that Iran and Iraq will place a role in the end times wars, as Iran was known as Persia in Biblical times (with the name only changing in 1935). We also know that Iran will play a role in the Gog and Magog War someday which will no doubt involve Russia and parts of Eastern Europe as well. Russia has had close ties with Iran for sometime and if Israel feels threatened by Iran's ever increasing nuclear weapon capabilities, Israel will no doubt strike against Iran much like it did against Iraq in 1981 for the very same reasons.
It goes without saying that if Israel gets involved against Iran, one can expect Russia to also get more heavily involved and if that happens it won't be long before the West gets involved to balance the threat accordingly. Also if Israel gets involved one can count on all the Muslim countries in the Middle East that despise Israel's existence to be partnering with Iran and Iraq. It is interesting to note that in Jeremiah 49:35-39 Elam which is in Western Iran we take notice that the 4 winds of Heaven destroy Elam and the survivors are sent into global exile.  These 4 winds are actually four spirits or you know them better as the 4 horses of the apocalypse, which again we have covered in detail in a couple of MOB's. The 4 horses appear in Revelation 6 as a point of reference. It is also interesting to note that Iran's nuclear facilities are also located in Elam.
The key to prophecy as far as the Antichrist is the involvement of Israel of course and the talk of the Seven year peace covenant. It is the platform that the Antichrist will use to disguise himself as a Global hero when he is actually a dragon ready to devour all who stand in his way. When Israel gets involved on a scale that seems to indicate an escalation of War is upon us, the we know the appearance of the Antichrist is also imminent. Please see our coverage and Daniel 9:27 for the details.
One thing we can say with the greatest of certainty is that the killing of Soleimani has escalated to the point that events can be triggered and hostilities continue to increase, that the one known as the Antichrist can come and exploit the hatred between the Middle East and the Western World. This hatred it needs to be mentioned is a fabricated web of lies orchestrated by the Devil, for there are both wonderful people and as well hate mongers everywhere in the World regardless whether they are in the West or the East or somewhere else on this Planet. Despite any Global repercussions or fallout let us never forget God is in control of all. God in turn is no respecter of persons and loves everyone, it is only sin that he hates.
Blog Posting #1: The Headlines Say it All.
Headline 1- Winnipeg Pastor arranged to meet minor for sex 
We see this all the time in these last days, those thought to be ministers of light and righteousness but who are truly wolves in sheep's clothing. We have them in positions where they really can do harm especially too are youth. Satan has planted an army of deceivers everywhere but the one place where he really can do damage is inside the church. He can make the true ministers of God be guilty by association and look like nothing more then dangerous deviant monsters and predators to the heathen and unbelieving World. This pleases Satan very much as anything he can use to cause distraction or hesitation for someone to come to God because of another man's sinful and decadent deprived nature, he will use to his advantage. What we have to remember is all have fallen short of the Glory of God. God has not let anyone down, we put too much trust in man and not enough in God.  We need greater discernment in these last days.
For such men are false apostles, deceitful workmen, disguising themselves as apostles of Christ. And no wonder, for even Satan disguises himself as an angel of light. So it is no surprise if his servants, also, disguise themselves as servants of righteousness. Their end will correspond to their deeds.
Headline 2 – Death of 7 year old migrant at border raises questions
We are all aware of the tragedy unfolding before our eyes as the migrants who have come to the US / Mexico Border as a massive human caravan have been subjected to what can only be considered as inhumane conditions when it comes to the basic necessities of life such as shelter, food and water. The very sad case of the 7 year old child whose death was listed as from dehydration, but how did that come about? One can only conclude without knowing all the details that most if not all these migrants are all suffering from not only dehydration but major nutritional deficiencies as well as not having a decent clean place to sleep. This of course is matter of survival and it is becoming a humanitarian crisis in a big hurry. Scripture says we are to rescue the poor, the widowed and those facing injustice. The Good Samaritan chose to cross to where the dying man lay on the road and took care of his injuries and his plight, he did not shy away from assisting those that needed his help the most. What is your reaction to this matter? Update -since this posting was published tragically other deaths have occurred of migrants particularly young children. This indeed is turning into a humanitarian crisis. 
Open your mouth for the mute, for the rights of all who are destitute. Open your mouth, judge righteously, defend the rights of the poor and needy.
Headline 3 – Many Australians are turning away from God
This headline should really read Many Millennials are turning away from God not just Australians or any other nationality. The truth be told the youth of today do not find God relevant to them, they see an ancient book written by ancient people that lived hundreds and hundreds of years ago and they say , "so what does that have got to do with me. Ho Hum"
Let's take a look at Australia though as it is a good microcosm for the rest of the World. Only 1/3 or 8% of the adult population actually attends any form of Church on a regular basis and that 1/3 of the population also decrees they have no religion to speak of. Indeed the country is becoming more and more secular. Sound familiar?  It should for the same thing is happening in the US, Canada and the U.K. So what is at the root here? What has happened is the baby boomers stopped attending church and the generation X group  grew up ill equipped to deal with spirituality and consequently the generation to come after them, the Millennials as they are so often called, have no basis or roots to expose them to what it is like to live a spirit filled life, not just attend church but live an active  Seven day a week Christian life style.  These millennials are more likely to live with their parents later, have less chance of getting married at a younger age if at all and also are having problems getting their careers going. Again the common thread here is a lack of exposure, the millennials have not been brought up in the traditional means, lack discipleship of any sort and consequently major gaps remain in their development including spirituality. Scripture has something to say about this  situation.
Proverbs 22:6 
Train up a child in the way he should go; even when he is old he will not depart from it.
Headline 4 – Suspect shot dead in Deadly Terrorist attack on Christmas Market
Nothing is sacred anymore it would appear, not kids being safe in school, a babe in it's mother's womb , people simply trying to worship God in a church and instead being mowed down in a barrage of bullets by a madman, nor people attending a Christmas market as was the case in Strasbourg, France in 2018. 2 people were killed, another left braindead and 12 were seriously wounded by what appears to be a 29 year old by the name of Cherif Chekatt who shouted out "Allah Akbar " (god is great in Arabic). This story sounds familiar doesn't it? Since 2001 we have lost count of how many of these types of incidents have happened world wide. This is not a story condemning Arabs by the way, far from it. This is a story about man lacking compassion  in the last days, that their deeds would become more vile in the end times. It doesn't matter the race, the ethnicity or even the cause for the sin of murder. Despite what many think this is not a Western World vs Eastern World battle, this is a battle of God's Goodness and Righteousness against the sin and evil of Satan, the enemy. The common denominator is God, not Allah, the fake Islamic name for Satan himself. We are referring to the God of Abraham, Issac and Jacob, the God of the House of Israel and all those engrafted into the Olive Tree, that God.  It is not likely we will see the end to these despicable acts of senseless violence anytime soon, for scripture tells us the following.
While evil people and impostors will go on from bad to worse, deceiving and being deceived.
Headline 5 – Pope seeks to change the Lord's Prayer – What is really going on here?
One shocking development that has come about it in 2018 was the news that Pope Francis has called for a translation change to the Lord's Prayer. The current phrase, "lead us not into temptation" should be changed to "do not let us fall into temptation." The original translation came from the Latin Vulgate, a 4th  Century Latin translation of the Bible which came from the original Greek, Hebrew and Aramaic. One cannot fault the Pope's logic here, as it actually makes sense (on a human level of understanding), the true danger is changing the actual translation which God himself gave us and in so doing, we are tampering with the Word of God. It's dangerous ground to start interpreting God's Word to the degree that we begin to re-write it for so called "improved or more accurate versions" that seemed to fit to our way of thinking, to our way of comprehension. We recall in scripture, we are told God's Ways are not our ways, God's thoughts are not our thoughts, so our understanding is not God's Understanding either. For these reasons and more Yeshua (Jesus) told us to pray to the Father in what we know as the Lord's Prayer.
There is a bigger matter of theology here that we need to grasp as well. The fact of the matter is that God is in control of everything, including overseeing what Satan (the true tempter of man) does. Do not forget the story of Job and what we learned from it. Recall that Satan had to get permission from God to inflict pain and suffering in Job's life. In fact one could even argue if God never asked Satan to consider his servant Job, Job may have never had to go through his trials and tribulations. Again God's Ways are not our ways and the Father chastised his children out of love, call it tough love. God knew what Satan was going to put Job through and he agreed to it, only stating one condition, he could not take Job's life. But pretty much everything else was available to Satan in the way of tormenting Job.
At times in the Bible, God has used evil spirits and familiar spirits (things he truly abhors and hates) to accomplish his work by using evil to expose evil and at time to punish rebellion, especially when the Israelites were disobedient. In the Book of Revelation. God will loose the 4 Riders of the Apocalypse and all types of demonic entities will rise up from the Abyss led by Apollyon  in order for evil to destroy itself.
So ultimately the Pope is limiting God as being the one in control of everything, for he is Judge and Juror ultimately. We should never doubt God's Words to the point where we believe we need to alter it to fit our understanding. This is poor judgement on the part of Pope Francis. Scripture brings a warning to anyone attempting to alter the Word of God in anyway. They are literally playing with fire, the fire of God's Wrath.
I warn everyone who hears the words of the prophecy of this book: if anyone adds to them, God will add to him the plagues described in this book, and if anyone takes away from the words of the book of this prophecy, God will take away his share in the tree of life and in the holy city, which are described in this book.
Headline 6 – DNA Discovery reveals all humans descended from Adam and Eve 
Scientists are now concluding what Christians and Bible believers around the World have known from the start, that all mankind has descended from the DNA origins of a couple we know as Adam and Eve. Yes, this is the same Adam and Eve from the Book of Genesis. So why is this a big deal in the first place one might ask? Well it flies in the face of evolution for one thing as it puts evolution and those who support and believe in it (after all it is a religion in of itself it does require belief as there is no physical or empirical evidence to support it) in major doubt. The research that came from studying 5 million types of animals as well as humans (over 100,000 species in all) revealed that the genetic barcodes found in the DNA strands all have commonality found in them. Over 90% of the animal species alive today all had there beginnings and point of origin traced to about 250,000 years ago. The same can be said about man as well, The study emphasizes that humans and animals all seemed to be created around the same time, which would refute the theory of evolution which is based on the concept that millions and millions of years of evolution have created all the diverse species found on this planet.
So instead of having evidence provided us of millions of years of gradual evolution and sub species evolution (not one single example of this), we see very distinct creatures that are void of any continued evolutionary development, which the Bible refers to as 'kinds" taken from the Hebrew word "min". This study would also indicate that all mankind for both genders despite different races, are all genetic brothers and sisters. Once again creation points to a divine , deliberate and intelligent designer with intent and purpose, our Father God. We can have faith in our creator and not in some "big bang theory" which much like the same TV series of the same name, is just a lot of malarkey.
For since the creation of the world God's invisible qualities—his eternal power and divine nature—have been clearly seen, being understood from what has been made, so that people are without excuse.
Romans 1:20
Coming Soon!
Headline -7 killed as gunmen attack Christian pilgrim buses in Egypt
At least 7 Christians were killed and as many as another 12 injured severely as 2 buses carrying Egyptian Christians who had just visited St. Samuel the Confessor Monastery located in Minya a very remote location which is located south of the capitol Cairo. It is the second  attack in as many years, with the previous attack leaving nearly 30 people dead. The 2 buses were just leaving the Monastery when armed Islamic terrorists opened fire killing and injuring close to 20 people. Attacks like this have been happening at targeted churches in Cairo, Alexandra and Tanta in the North Delta. located north of the capitol. Those combined attacks left over 100 people dead. Egyptian Christians account for 10% of the countries 100 million people. The Christians there face great persecution, torture, imprisonment and death in a highly discriminatory and hostile part of the World that has many militant Muslims living in it. Please continue to pray for our brothers and sisters suffering great persecution in Egypt.
Matthew 5:10-12 
"Blessed are those who are persecuted for righteousness' sake, for theirs is the kingdom of heaven. "Blessed are you when others revile you and persecute you and utter all kinds of evil against you falsely on my account. Rejoice and be glad, for your reward is great in heaven, for so they persecuted the prophets who were before you.
Headline 8 – Pakistani Christian Brothers charged with blasphemy sentenced to death 
In still another story of Christian Persecution and violations of religious freedoms that are affecting the brethren in the body of Christ (there are so many stories from all over the World  happening weekly that we could never cover them all) comes the story of 2 Pakistani Christian Brothers who have been sentenced to death  for the crime of blasphemy. These charges coming on the heels of the release of Asia Bibi, a Pakistani Christian woman who was incarcerated for 8 years for supposedly the same crime, blasphemy. Asia Bibi like the 2 brothers was to be sentenced to death, but was acquitted by the Country's highest court in October of 2018. 
The two brothers, Qaisar and Amoon Ayub were arrested in 2014 for posting what was considered as disrespectful material on their website. Cases such as the 2 Brothers and Asia Bibi's are coming all too common in Pakistan as the Country starts to really crack down on then impact Christianity is having on it's populace. Pakistan has been added to the list of Countries who are currently violating it's citizens religious freedoms in lieu of their countries' blasphemy laws.
This on going situation will remain a concern that needs to be watched closely as many Christian Pakistani's are now in jail due to these blasphemy laws which seem to be targeting in particular Christians. Please continue to pray for our Pakistani Brothers & sisters in the Lord.
1 Peter 4:12 – 13, Dear friends, don't be surprised at the fiery trials you are going through, as if something strange were happening to you. Instead, be very glad–for these trials make you partners with Christ in his suffering, so that you will have the wonderful joy of seeing his glory when it is revealed to all the world.
Headline 9- Pope removed two cardinals from cabinet after child sex abuse scandal
2 Cardinals have been removed from Pope Francis's cabinet after implications the 2 Cardinals were involved in the attempted cover up of a series of sex abuse scandals. The Cabinet known as the Group of Nine has 2 Cardinals less now that Pope Francis has let go Chilean Cardinal Javier Errazuriz and Australian Cardinal George Pell. A third Cardinal who had yet to be implicated in the scandal chose retirement at age 79 rather then face the said charges. The 85 year old Errazuriz has been accused of covering up a long history of child sex abuse of Chileans by a number of predator priests while Pell was to stand trial for a long history of  child sex abuse in his native Australia.
Unknown to most of the public, Pope Francis himself was implicated in an additional sex scandal by having defended still another Chilean Bishop who in turn was also accused of covering up for still another child sex predator priest. Pope Francis both apologized and recanted his defense of the Bishop once he learned he was going to face charges and it would be leaked public.
There is so much evidence of thousands upon thousands of predatory priests and pedophiles in the Catholic Churches across the World, it is truly terrifying. In fairness there are a good number of sexual predators in Churches and religions of all sorts and not just Catholic churches. For some reason though it is incredibly lopsided that so many Catholic  priests have been exposed as depraved sex predators and abusers of mostly children. So what is going on here? What is it about the Catholic Priesthood that attracts so many child sex predators and depraved mindsets to it? We can only speculate here. Is it the call of celibacy that these priests have pledged to live that drives them to become uncontrollable depraved monsters? What about all the homosexual priests in the Catholic Church? Is this also related somehow?
Is it something perhaps more hidden and sinister such as the fact that the Catholic Church is built on deception and lies (the unbiblical elevation of Mary as Queen of Heaven and Mother of Helps and the demonic doctrines of the Catholic Church – unbiblical rituals and Idolatry. Because the Pope is the head of the Church and seen as God's man on Earth (which we will look into a bit later in another post)  the Catholic Church actually fits the bill as a cult. We in no way want to offend our Catholic friends on here. but the truth is the truth and we are speaking of God's truth here not Man's truth. The fact is that so many Catholic doctrines do not even line up with any orthodox translation of the Bible, and that includes modern translations. So can it be, that the Devil indeed as we have reported on this website is alive and well in the Vatican as well as many other Parishes and Churches around the World? Has Satan planted his people through a network of dark underground forces for the purpose of molesting young children in the hopes of traumatizing them for life? Now this being said, there are many, many fine people of the cloth as well as brothers and sisters in the Lord who attend Catholic Churches. We are only referring to the deviant ones here.
All false faiths are cults in an essence and they all become too dangerous when one man leading them has too much power and too much trust has been given them. We will see this happen again in Prophecy with the rise of the False Prophet which this websites believes is none other then the head of the New World Order Church, Mystery Babylon. When too much power is in the hands of too few, they are quick to take advantage of the weak and the vulnerable. You certainly do not need to be Priest in a Catholic Church for that to happen, just look at the Reverend Jim Jones or the Branch Davidians at Waco for examples of human disasters when one man has gone too far and has violated the trust of their parishioners. They became dangerous cults and many people ended up dead because of them. One thing we know for sure, these sex predators are nothing but wolves in sheep's clothing as scripture has warned us time and time again.
Matthew 7:15 
Beware of false prophets, which come to you in sheep's clothing, but inwardly they are ravening wolves.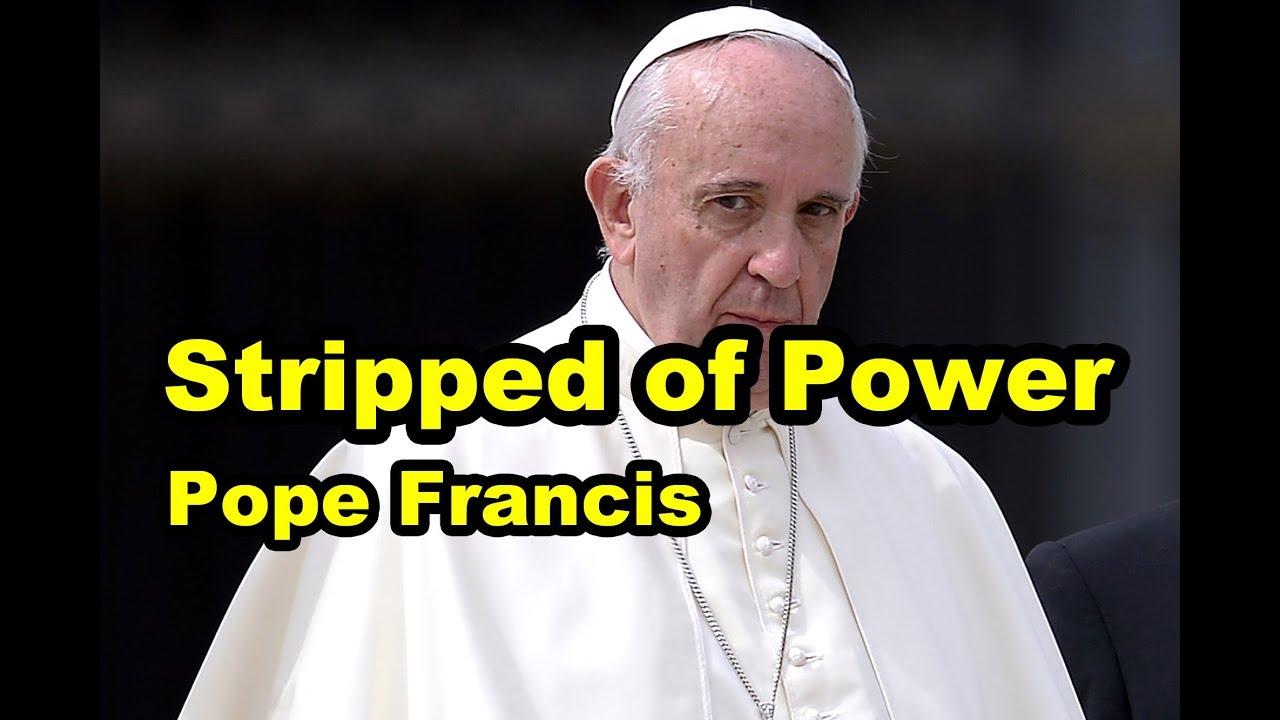 Since the time of the posting above and as of this writing news comes forward that Pope Francis was to be stripped of his "power" (although it is highly debatable he had any to begin with and was nothing more then a showpiece for those who truly run the Vatican) as reported by Kevin Annett who has been a whistleblower on other Vatican Scandals in the past such as Child Pedophile rings in the Catholic Church along with sex scandals and on going ritual child sacrifices. Through exposure through alternative media throughout Europe trusted and credible insiders in the Vatican state that the lid is about to blown off of the sexual relationship between Pope Francis and Queen Maxima of the Netherlands. Recently scandal after scandal has rocked the Vatican, whether it be sexual abuse by high ranking Priests and Bishops in the Catholic Church to story after story of missing children and eye witness accounts of child sacrifices taking place in the secretive chambers of the Vatican. What comes next, we aren't sure but we will continue to follow this breaking story as it could have Biblical and Prophetic implications on who steps in next and whether this person will indeed the False Prophet (that so many thought Pope Francis was). One day later news has broke out that Pope Francis in an attempt to salvage his position as Pope has brought forward a 12 step plan to rid the Catholic Church of sexual predators. Why is he making this suggestion only now one must wonder? In other news the recently dismissed Vatican Finance Adviser George Pell l has now been found guilty of child sex abuse in Australia, the veil of secrecy is being lifted before our eyes. Scripture says that in the last days all will be made manifest and no man's secrets will be hidden.
Corinthians-1 3:13 Every man's work shall be made manifest: for the day shall declare it, because it shall be revealed by fire; and the fire shall try every man's work of what sort it is.
Ephesians 5: 13 But all things when they are reproved are made manifest by the light: for everything that is made manifest is light. Webster's Bible Translation But all things that are reproved, are made manifest by the light: for whatever doth make manifest is light.
Coming Soon!
Headline 10- Pakistan added to US blacklists over religious freedom concerns
Pakistan has been added to what is called a " US Blacklist" that is kept by the United States which lists the Countries that are currently violating religious freedoms especially the abuse of rights of minority groups. Pakistan is now considered " a country of particular concern" in the way minority groups such as Shiites, Ahmadis and Christians are being treated. All this was brought to light by the 8 year incarceration of Asia Bibi (whose situation  we have mentioned in a previous posting), a Christian women who was on death row after facing 8 years in jail for supposed "blasphemy" charges in Pakistan.
Harassment, arrests and death of minorities have been all too common in Pakistan. The Blacklist also includes the following countries, China, Eritrea & Sudan (both part of Africa), Iran, Myanmar (South East Asia), North Korea, Saudi Arabia, Tajikistan and Turkmenistan – two countries in Central Asia. One Country also located in Central Asia called Uzbekistan has been removed from the list but is on a type of probationary watch of sorts. Another Country the US is keeping a watch on is none other then Russia who for sometime now has been oppressing minority groups and in particular Jehovah's Witnesses.
All Around the World minorities are being oppressed regardless of whether they are Christians or not, Jesus said to his followers to stand up for those facing injustice and to stand up for the oppressed and those in jail. He didn't say stand up for only those who believe in him or only those who follow me. It means we are to be our brothers and sister's keepers, even  those who do not agree with what we believe. Here is what scripture has to say about it.
Hebrews 13:1-25 
Let brotherly love continue. Do not neglect to show hospitality to strangers, for thereby some have entertained angels unawares. Remember those who are in prison, as though in prison with them, and those who are mistreated, since you also are in the body.